World Space Week Profile: Volodymyr Levykin
In honour of this year's World Space Week theme of 'Space and Entrepreneurship,' Skyrora is highlighting the business journey of our founder and CEO Volodymyr Levykin, whose vision to transform the space industry in the UK through sovereign launch was born just over six years ago and has been moving from strength to strength ever since.

Background
Hailing from a successful IT background in Silicon Valley, software engineer and entrepreneur Levykin first identified a key market gap within the UK space sector after observing a significant number of small satellites in Europe with no launch services available to deliver them to space. With Glasgow manufacturing more satellites than anywhere else in Europe and Edinburgh vying to become the data capital of Europe in the coming years, it was clear that a space value chain already existed in the UK and all that was missing was one key capability: launch.

By combining unmatched rocketry expertise from Ukraine with the promising space business landscape already established in the UK, Levykin founded Skyrora in 2017 to develop a British rocket with the potential make history through the first ever vertical commercial launch from British soil.

Government Backing
In 2018, the UK government published the Space Industry Act to improve the regulatory framework for commercial spaceflight activities, representing a newfound commitment to growing the nation's space industry for the first time since the Black Arrow space programme in the 1970's. This framework inspired the development of several vertical and horizontal spaceports across the UK, many of which are located in Scotland. Once completed, SaxaVord Spaceport in the northern-most island of Unst in Shetland will unlock access to polar and sun-synchronous orbits for payloads, which, with Skyrora's orbital XL rocket, will enable a fully localized end-to-end space value chain in the UK that can yield economic benefits for the nation. 
Skyrora's Values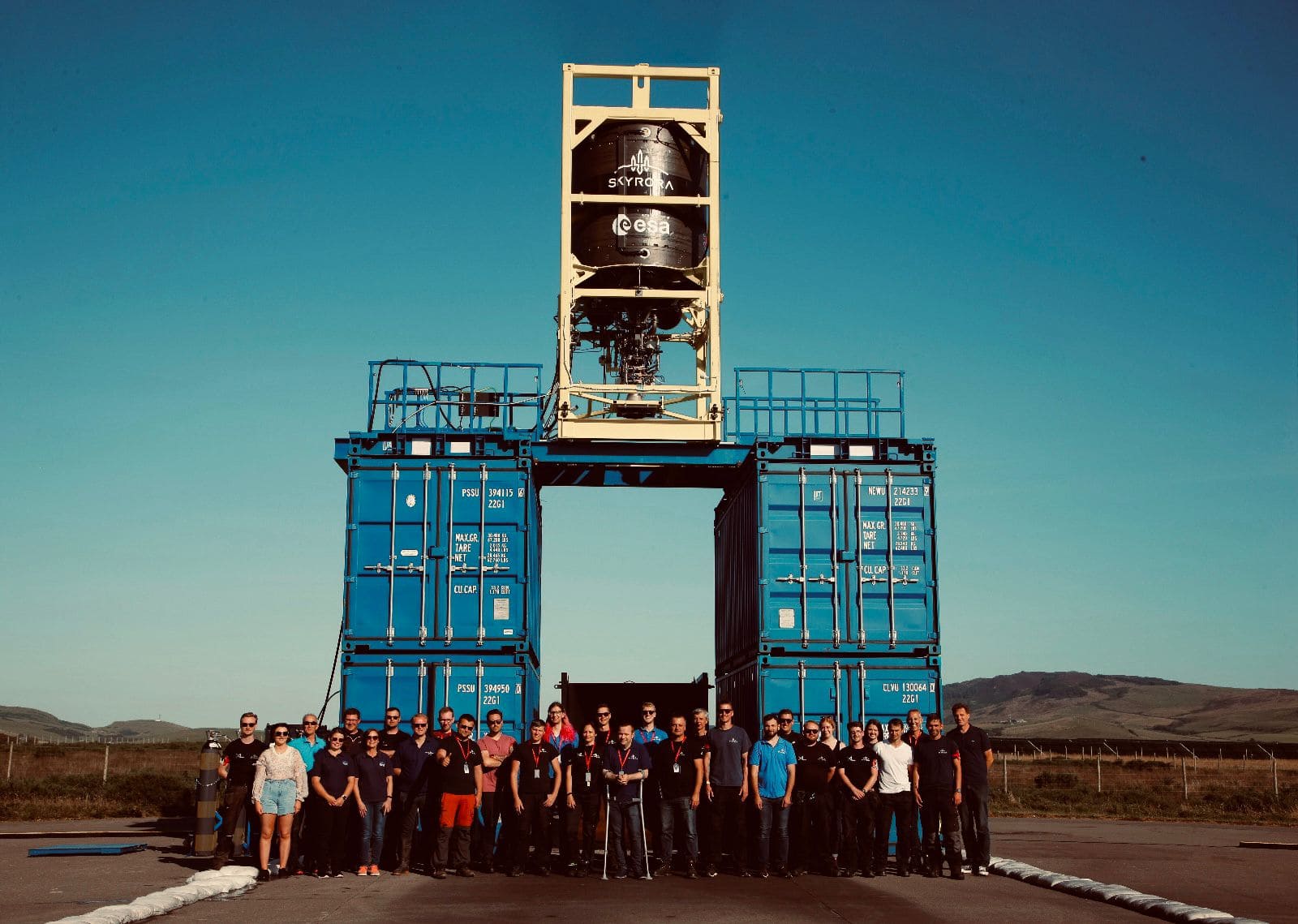 From the start, Levykin founded Skyrora with the aim to better life on Earth through the delivery of crucial Earth observation satellites responsible for everything from responding to natural disasters to enabling sustainable development amid climate change. This commitment to responsible and sustainable activity is reflected throughout Skyrora's business processes, all of which seek to minimize waste, emissions, and energy consumption. For instance, Skyrora utilizes a unique propellant combination inspired by the UK's Black Arrow Programme of high-test peroxide (HTP) and kerosene, which is associated with reduced emissions during launch. 
On the manufacturing side, Skyrora has constructed in-house hybrid 3D printers, Skyprint 1 and Skyprint 2, to enable the development of launch vehicles via additive manufacturing methods that can eliminate wasted resources. 

Levykin has also developed local state-of-the-art testing and manufacturing facilities across Scotland to reduce the carbon footprint associated with transporting machinery to third-party facilities. These facilities, such as Skyrora's engine testing facility in Midlothian, incorporate natural features like harnessing rainfall from the Scottish Lowlands as part of the cooling systems for the test stand to manage Skyrora's consumption of natural resources. 
This core value of sustainability combined with Skyrora's agile and flexible approach to launch has positioned the company as a frontrunner within the small launch market in Europe. Skyrora's modular launch infrastructure, which enables the company to conduct a launch from practically anywhere in the world, was tested in 2022 during a launch attempt of the suborbital Skylark L vehicle from Iceland. 
Overall, Levykin is motivated to develop upstream launch capabilities to unlock downstream applications such as the collection of valuable data that will better life here on Earth.
Barriers to Growth as a Space Business
Launch Vehicle Licence Application Process
As an SME operating within a relatively new space sector, Skyrora has faced and overcome various barriers to growth under Levykin's guidance. For instance, as one of the first companies to submit a launch vehicle licence application in August 2022, Skyrora has worked hard to collaborate with the Civil Aviation Authority (CAA) to ensure safe and robust launches from the UK in the future. This engagement process, while constructive, has been slow, but improvements to the length of the process are constantly being made due to the exchange of mutually beneficial feedback between the industry and the regulator.  
Skills Gap and Talent Retention
Additionally, SME's across the space sector must navigate both a technical skills gap and talent drain to more well-established industries offering higher average salaries. It can be challenging to access and retain high-quality candidates that are not lured away by offerings from longer-standing industries such as engineering, tech, and finance. In the Space Sector Skills Survey recently released by the UK government, 52% of organisations reported skills gaps in their current workforce, with uncompetitive pay being the second biggest reported barrier. Although the UK Space Agency (UKSA) and European Space Agency (ESA) offer initiatives in response to these challenges, greater levels of support from the government are needed to bolster the space industry's offering and attract vital talent. This can be achieved by providing SME's access to more substantial and longer-term contracts rather than just grants.
Another potential solution to recruitment challenges is raising awareness of the exciting activity happening within the UK's growing space sector, such as launch. However, awareness is not possible unless the UK government provides adequate support to the industry to enable a timely demo orbital launch from UK soil. This will generate a domino effect of commercial operations across the industry that will prove attractive to skilled graduates and ultimately promote further sector growth. 
External Factors
Beyond sector challenges, current events in recent years including the COVID-19 pandemic and the ongoing Russia-Ukraine conflict have directly impacted activity at Skyrora, as well as the rest of the world, from causing supply chain delays to requiring staff to relocate. However, each obstacle has been met with resilience and a steadfast dedication to Skyrora's larger mission, which has enabled the Skyrora team to adapt and overcome these external factors.
"Hope pushes me forward. We can't just sit and be quiet. What doesn't kill us makes us stronger. Regardless of all the challenges, we keep pushing forward."

Volodymyr Levykin, Web Summit 2022
Despite these inevitable challenges, Levykin believes the UK space sector is still moving forward in a productive and steady manner and looks to the future with optimism.
"The UK spacetech industry is in good stead, it'll flourish as a result of the seeds sown last year – an increasing budget, a global commitment to space exploration, and a growing awareness of the new space economy."

"It's not only private individuals and venture capital firms that invest in space – the industry has both national and supranational backing. Towards the end of 2022, the European Space Agency (ESA) announced a 17% rise in its budget, and it will be interesting to see how the region's space programme takes shape as this capital is distributed among nations. Looking closer to home, the UK laid the foundations for a bright future in space this year."

Volodymyr Levykin, 2023