Quarter 2 in Review
Term: April-June | Issue 2 | Date: July 1, 2020
A close look at the work carried out by Skyrora over the last few months.
A LETTER FROM OUR CEO
SECOND QUARTER OF 2020 SEES LEAPS AND BOUNDS FOR SKYRORA
Amidst a global pandemic, Skyrora have been extremely fortuitous in our ability to continue the work that has allowed us to reach imperative milestones in making the UK a launch nation once again. Not only have we been able to launch Skylark Nano from Shetland soil for the first time, but we have also completed a full static test of the Skylark L suborbital launch vehicle, (all the while adhering to strict social distancing measures) effectively making the UK ready for launch.

We have completed such achievements during exceptionally testing times, which is a commendable testament to our team here at Skyrora, who have continued to drive the business forward through difficult times. This journey has proven trying, with obstacles that we would not have previously faced, yet the team have overcome each impediment while adhering to Skyrora's schedule in putting the UK back in space by 2023.

Skyrora have also continued to manufacture and produce hand sanitiser and face masks in addition to ordinary business operations, providing for our local vulnerable groups and those that care for them. Skyrora have additionally donated quantities of hand sanitiser to Roslin Primary School and Legion Scotland to assist in the adjustment period to protect civilians, pupils, and teachers alike as the country slowly emerges from lockdown. It is essential that we continue to be stringent in the protection of ourselves and those around us.

While the engineering team have managed the afore-mentioned multi-operations, the Skyrora business team have been generating ideas and creating content for those at home. We have released video lessons, arts and crafts activities and scientific experiments which are all readily available on the Skyrora website, with hopes to provide educational and interactive material for the younger generation.

As the country emerges from lockdown and things return to normal, it is important that we support one another as we did when the lockdown period began. Many businesses will have suffered monumental economic damage, and as a result the daily operations of many businesses will have to change. Uncertain times are still ahead, and it is crucial that as businesses as well as individuals, we help each other out of this isolation period.

Volodymyr Levykin
CEO Skyrora Limited
ASTRONAUT TIM PEAKE JOINS SKYRORA'S ADVISORY BOARD
Within the context of Skyrora's Advisory Board, Tim Peake will be supporting Skyrora in becoming the UK's premier and principal company for commercial rocket launches.

The experience Tim has gained as a European Space Agency astronaut, former International Space Station (ISS) crew member, and British Army Air Corps officer will be invaluable to Skyrora as the company continues its development of the Skyrora XL rocket for providing orbital launches by 2023.

Tim has been at the forefront of the space industry for years. His level of expertise will help Skyrora to gain more insight into the rapidly evolving UK space industry and sustain our rapid growth and development.

The European Space Agency astronaut has expressed his delight to be joining Skyrora's Advisory Board, attributing the UK as a key player in meeting the increasing need for small satellite launch opportunities, advanced by Skyrora's innovative ideas and rapid pace of development.

After a successful 17-year career in the military and aeronautical industry, Tim Peake joined the European Space Agency astronaut training programme in 2009 and took part in missions such as ESA CAVES and NEEMO 16.

Following Tim's successful six-month trip to the ISS managing scientific experiments for hundreds of researchers on Earth from December 2015 to June 2016, Tim led a UK countrywide tour to promote his ISS Principia mission to the younger generation.

Tim saw this as a unique opportunity to engage with students and teach them about the science and engineering behind human spaceflight. This created an educational outreach programme of more than 30 projects, engaging and inspiring more than two million school children across 10,000 schools, which is equivalent to around 15% of all school children and one in three schools in the UK. Tim will continue with his engagement as a highly distinguished and much-loved ambassador.
SKYRORA COMPLETES GROUND ROCKET TEST ON MOBILE LAUNCH COMPLEX CONSTRUCTED IN 5 DAYS
In just 5 days, the Skyrora team completed a full static fire test of the Skylark L rocket, on a mobile launch complex built from scratch. The team also managed to carry out tests leading up to the ground rocket test during this time, to ensure maximum safety precautions were applied.

Skyrora has effectively made the UK ready for launching rockets as a result of this successful ground rocket test on Skylark L. The combined achievement signifies the first vertical static fire test of this magnitude in the UK since the Black Arrow programme, 50 years ago.

The ground test at the mobile launch complex at Kildermorie Estate saw the Skylark L launch vehicle perform all actions of launch while restrained to the ground, to prevent the rocket from taking off. Having completed all actions of launch tests successfully, the launch vehicle is now ready for launch from a British spaceport, and the inaugural launch of the low Earth orbit (LEO) Skyrora XL by 2023.

The full static fire test fully examined the design and in-house manufacture, ensuring the vehicle itself was ready for launch. It was also successful in the feed system validation tests leading up to the full static fire test. During the test, Skylark L was supported by Skyrora's transporter-erector that was fixed to the trailer. The rocket engine successfully burned, with all vehicle systems showing normal operation. A team of twenty people were on-hand to run the test, located about 500 metres away from the rocket.

Skylark L is a bi-liquid propellant launch vehicle. It is Skyrora's first suborbital flight vehicle, ready to reach a height of approximately 100km, just on the Kármán line, and carry a payload of up to 50kg. Skylark L uses a propellant combination of Hydrogen Peroxide and Kerosene which are pressure fed into a Skyrora 30kN engine. Prior to the static fire test, the 30kN engine has undergone three hot fire tests before integration to the vehicle. When commercial operations begin, Skyrora plans to use our own fuel known as Ecosene, a Kerosene equivalent fuel made from plastic waste. Skyrora aim to start launching suborbital rockets and move to launching orbital rockets by 2023.
SUCCESSFUL SKYLARK NANO III LAUNCH FROM SHETLAND SOIL FOR SCIENCE
On Saturday 13th June, Skyrora successfully launched the Skylark Nano rocket from the Fethaland Peninsula at North Roe, from Shetland soil.

Skyrora plans to launch from one of the three proposed spaceports in Scotland and commercially launching from Shetland in the future is a potential prospect.

Reaching an altitude of six kilometres, this launch marked the third time the 2 metre (6.5ft) projectile took to the sky. The launch was completed for educational purposes, collecting meteorological data, measuring wind profiles, analysing the vehicle's trajectory, and providing critical training in support of Skyrora's future plans. Skyrora invited local journalists to attend the launch and to be a part of the educational process.

The launch signified a vital step towards Skyrora's ambitions to become the UK's "go-to" satellite launch provider. This was a great success for Skylark Nano and the Skyrora team in general and launching from Shetland was especially important for Skyrora because it is a potential launch option for the Skyrora XL orbital commercial launch vehicle.

Skylark Nano's first launch took place in Ross-shire in summer 2018, with Skyrora continuing to develop cutting-edge research and technology ahead of its first planned commercial orbital launch.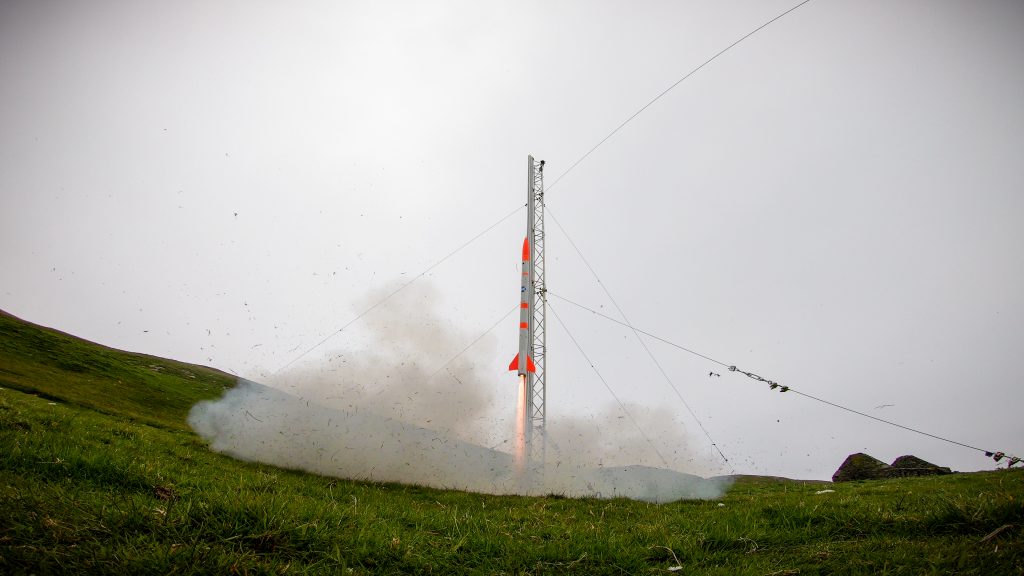 COVID-19: SKYRORA'S CONTINUED EFFORTS IN THE FIGHT AGAINST CORONAVIRUS
Skyrora have continued our efforts in answering the call of the UK government and the NHS to do what we can in providing much-needed healthcare equipment for frontline responders amid the coronavirus crisis.

Skyrora dedicated most of its UK operations to the Covid-19 response, who were fully focused on the production and manufacture of hand sanitiser and face visors. At the end of April 2020, Skyrora teamed with the National Physical Laboratory and Makerspace Paisley to 3D print face visors as a collaborative effort, yielding much faster and higher volumes of supplies.

Together, 50 face visors per week were initially produced, all 3D printed on Skyrora's printers. With the support of the National Physical Laboratory, lending Skyrora two further printers, the team has been able to 3D print 70 – 100 face visors per week.

Without the help of Makerspace Paisley, who kindly lent their laser cutting facilities to Skyrora, visor production would not have been possible. The laser cutter uses a high-powered carbon dioxide laser to etch the safety marking and logos onto the 100% recyclable plastic visors, before cutting them out for production-quality precision.

SNP Midlothian MP Owen Thompson praised Skyrora on our efforts in the fight against Covid-19, stating the importance of multiple companies using their collective to support and protect those working on the frontline.

Skyrora have also received recognition from other members of the Scottish government. The Deputy Presiding Officer, Christine Graham said that Parliament welcomes the efforts of Skyrora to tackle the Covid-19 outbreak by reallocating our staff to manufacture various forms of personal protective equipment.
SPACE TODAY – SKYRORA'S WEBINAR SERIES
From May until June, Skyrora ran our own webinar series consisting of 5 webinars that covered a range of topics with various panellists. Over the entire webinar series 700 people registered, and almost 400 of those that registered attended the webinars.

The topics covered in the webinar series took place as follows:

- Episode I – Covid-19: Response and Adaptability – How the space sector has adapted during Covid-19 featuring discussions regarding the challenges of remote working, from team communication and productivity to keeping safe under increased cyber threats
- Episode II — Ladies in Launch: An in-depth look at some of the pioneering women of the space industry featuring discussions regarding different aspects of the space industry from a female perspective
- Episode III — Careers in Space: Webinar focused on exploring career opportunities for future generations
- Episode IV — Environmental Webinar Part I: First environmentally focused webinar featuring discussions about responsibilities and innovations regarding space debris prevention and clean-up technologies
- Episode V — Environmental Webinar Part II: Second environmentally focused webinar featuring discussions on tackling the importance of satellite monitoring, whilst bringing awareness to the environmental impact of rocket launches and harmful emissions

Representatives from academia, governmental agencies, industry, and politics made an appearance across Skyrora's webinar series, with representatives from organisations such as University of Edinburgh, UK Space Agency, Astroscale and Members of Parliament. All the webinars from the series can be found on the Skyrora Ltd YouTube channel.
SKYRORA'S CONTINUED STEM EFFORTS OVER ISOLATION PERIOD
Skyrora have been immensely fortunate to re-focus our business operations on the production of online STEM content aimed at the younger generation, to continue our engagement with the younger community.
Due to the restricted circumstances, Skyrora have been unable to host STEM events and have therefore generated online arts and crafts tutorials, video lesson plans and educational workshops, all having been made readily available on the Skyrora website.
In summer 2020, Skyrora will be flying the Skylark Micro rocket for the first time. This rocket will be pushing to the edge of space to help us develop our technology and prepare for our larger launch vehicles that will put satellites into space. For the first time ever, Skyrora are looking for a Skylark Micro mission patch design to signify Skyrora's Skylark Micro I launch.
Running until July 13th, the winning design will be converted into graphics and flown on the Skylark Micro vehicle. All competition details are available on the website at www.skyrora.com/post/mission-patch-design-competition, and the winning design will be featured in our next newsletter.