Quarter 3, 2022 in Review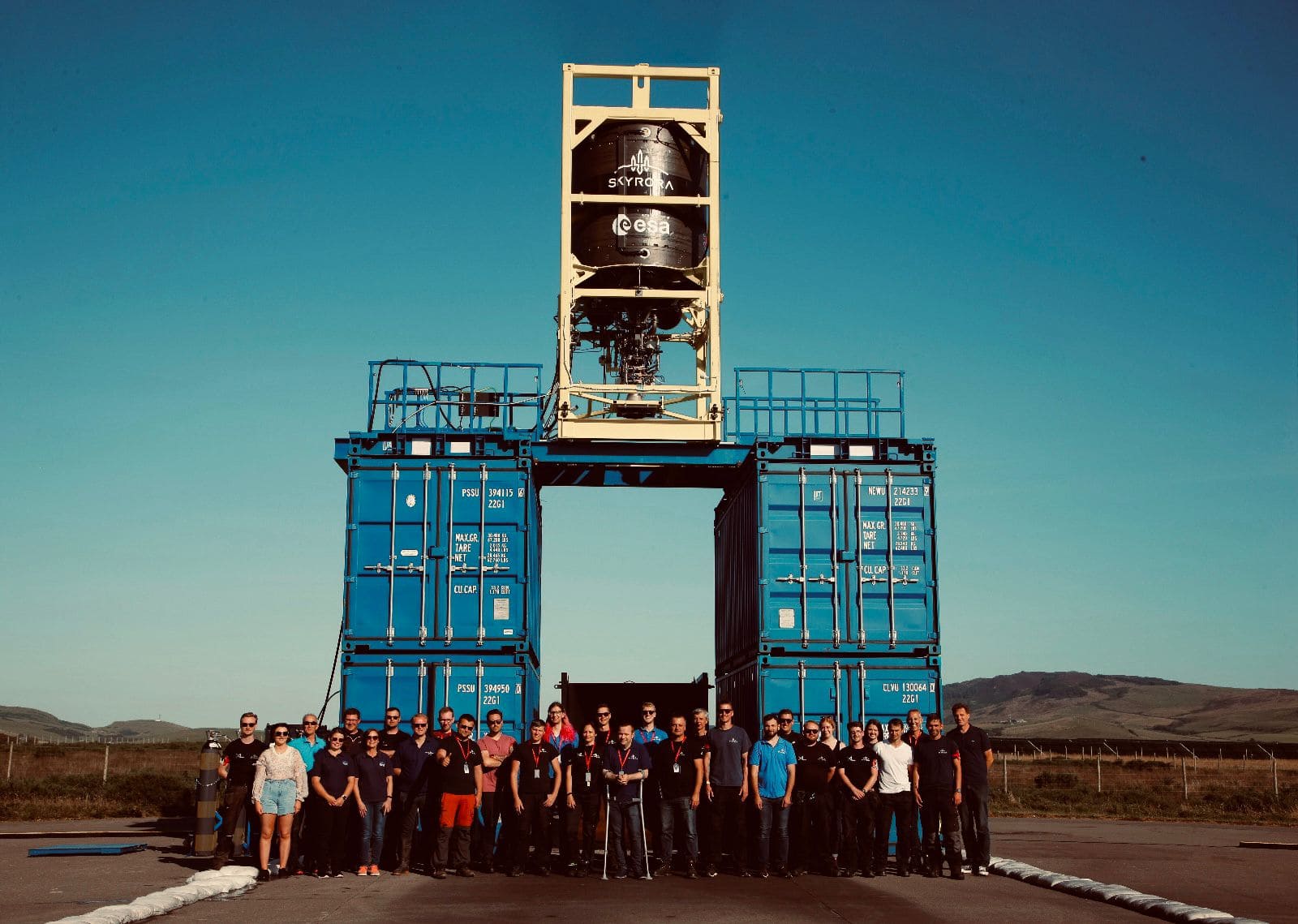 Term: July-September | Issue 4 | Date: 3rd October, 2022

A close look at the work carried out by Skyrora over the last few months.

A Letter From Our CEO
Quarter 3: Building Momentum Through Milestones
As we approach the final few months of 2022, a reflection upon the past quarter of ground-breaking activity at Skyrora indicates a promising future for the larger UK Space industry. From conducting the UK's first integrated static fire rocket stage test in over 50 years to submitting our launch vehicle licence application and opening a local rocket manufacturing facility, Skyrora continues to move from strength to strength, consistently demonstrating our uniquely rapid, responsive launch capabilities as we secure the probability of achieving orbital launch in 2023.

The UK government often mentions its aim to help the nation become a 'global science and technology superpower'. I believe that Space, and particularly sovereign launch, is paramount to achieving this status, acting as both the means and the end to pushing scientific and technological boundaries and ultimately driving local economic growth. I am immensely proud of our talented, multi-faceted team for their outstanding work this quarter to move the UK closer to establishing these essential sovereign launch capabilities.

Indeed, Skyrora has made great technical strides this quarter, such as the static fire test of the second stage of our orbital rocket, Skyrora XL, at the Machrihanish Airbase. This test was the first of its kind in the UK since the historic Black Arrow and Blue Streak programmes in the 1970's. Completing the set-up and performance of the test in just 2.5 days, this milestone has demonstrated the innate mobility and flexibility of our operations, propelling the UK towards capturing 10 percent of the global space market by 2030. With the help of this seminal achievement, I am optimistic that Skyrora will enter commercial operations as early as next year.
Additionally, the submission of our launch vehicle licence application to the Civil Aviation Authority (CAA) in August has further cemented our potential to enter the commercial market through a maiden orbital launch in 2023. After nearly a year of diligent preparation and analysis by our team to submit the application, we look forward to working closely with the CAA to prioritize safe UK launch.

Not only will sovereign launch act as the catalyst to realising economic growth through science and technology, but this capability is also critical to the UK contending on a global scale within the realm of defence whilst also strengthening key relationships with allied nations, such as the United States. Therefore, Skyrora was honoured to welcome the first US Space Force Chief of Space Operations, General J. Raymond, to our recently opened rocket engine manufacturing and production facility in Cumbernauld, the largest of its kind in the UK.

As well as creating up to 100 high-skilled technical and business roles central to the UK government's Levelling Up Agenda, this new facility allows Skyrora to offer end-to-end domestic launch capabilities for the benefit of the larger UK space industry, such as development, manufacturing, testing, and launch. With three vehicles already in production in this facility, I look towards Skyrora's aim to conduct 16 launches annually by 2030 with promise.

The importance of both sustainable launch and satellite capabilities to the commercial, defence, and scientific sectors alike is only set to grow over time. Skyrora's environmentally conscious innovations are central not only to meeting the increasing demands of industry but also to delivering the key work packages within Scotland's recently released strategy, 'Space Sustainability, A Roadmap for Scotland'. This is the first document of its kind to harness Space capabilities towards obtaining a Net Zero future. I am excited to continue sharing with you Skyrora's disruptive technological developments as we approach the first ever vertical orbital launch from UK soil, championing environmental launch practices in the process.

In closing, I would like to extend my sincere appreciation to Skyrora's stakeholders, including UK Space Agency, European Space Agency, Civil Aviation Authority, Scottish Enterprise, DiT, and DFT, for your unwavering support in our journey to orbit. Finally, I would also like to thank the Skyrora team for your consistent hard work and dedication as we continue to build momentum towards orbital launch through each and every milestone.

Volodymyr Levykin, CEO Skyrora Limited
Second stage static fire engine test moves Skyrora closer to UK launch
Skyrora is elated to have successfully completed the static fire test of the second stage of our flagship Skyrora XL orbital rocket with the support of Discover Space UK at Machrihanish Airbase. This milestone marks the largest integrated stage test to be held in the UK since Black Arrow and Blue Streak programmes were in action over half a century ago.
Comprised of hot firing the second stage engine to prove the vehicle's operational capability for its intended payloads and ensure that its performance meets all design requirements, the test was deemed a success after all systems were found nominal throughout the 20 second burn, and the single 70 kN liquid engine operated within design margins and achieved the expected thrust.
The static fire test is pivotal to both establishing a strong domestic space industry in the UK and helping the nation to capture a 10 per cent share of the global space market by 2030. Skyrora is grateful to the European Space Agency for their assistance in this historic achievement under our Boost! co-funding agreement, as well as to the UK Space Agency for their support. Skyrora will continue to spearhead our technical efforts towards manifesting sovereign UK launch capabilities. 
Skyrora submits vehicle license application to commence launch operations
After nearly a year of preparation and analysis, the Skyrora team was delighted to officially submit our launch vehicle licence application to the Civil Aviation Authority (CAA), which is required for all commercial spaceflight activities in the UK. Upon acceptance, this licence will enable Skyrora to enter commercial operations through the orbital launch of Skyrora XL from Saxavord Spaceport.

The application evaluation process will take between nine to 18 months, during which the CAA will assess the application to ensure that the operator meets regulatory requirements enacted by the UK's Space Industry Act 2018 (SIA) and Space Industry Regulations 2021 (SIR). The Skyrora team looks forward to working closely with the CAA as they review the application to ultimately ensure safe and successful launch activity for the UK.

Skyrora opens the UK's largest rocket engine manufacturing facility to bolster British launch capabilities
Skyrora took another significant stride towards achieving sovereign launch capabilities for Britain through the opening of the UK's largest rocket engine manufacturing and production facility in Cumbernauld. Alongside the recently opened engine test site in Midlothian, this facility will localise technical development and further strengthen Skyrora's leading position in the UK Space race.
The facility provides the UK with a site for conducting full-stage structural and pressure testing and full-stage functional and cold flow testing for the first time ever, providing a cost-effective competitive advantage to the larger UK New Space sector. Currently, three vehicles are in production at the site, which is expected to increase to sixteen once mass production commences. Similarly, the maiden testing of Skyrora XL's second stage was fully manufactured and assembled in-house. 
In addition to localising manufacturing and production ahead of orbital launch, the Cumbernauld facility is expected to create up to 100 high-skilled technical and business roles, aiding economic growth in both the North Lanarkshire area and the rest of Scotland alongside generating new employment opportunities. Skyrora would like to express our appreciation to the UK Space Agency (UKSA) and European Space Agency (ESA) for their support in the development of this facility to help establish wider British launch capabilities.
US Chief of Space Operations visits British rocket company Skyrora to strengthen UK-US space relations
To wrap up Quarter 3, Skyrora welcomed the first Chief of Space Operations for the United States, General John W. "Jay" Raymond to our facilities as US interest grows in the UK Space sector. Taking place shortly after the static fire test of the second stage of Skyrora XL, the landmark visit is set to reinforce the key Space relationship between the US and UK ahead of Skyrora's demo orbital launch in 2023.
General Raymond's tour provided the US Space Force a unique insight into Skyrora's rapid, responsive technical capabilities, such as our mobile launch complex and third stage technology, which play a part in several key space applications, including in-orbit spacecraft servicing and space domain awareness. Combined with Skyrora's sustainable approach to launch, these capabilities have the potential to enable crucial defense activities in Space for the benefit of life on Earth. 
In General Raymond's words:
"Now, more than ever, international cooperation in space is critically important. And the proliferation of commercial space efforts helps all spacefaring nations by driving costs down."
Skyrora is optimistic about working with the UK government to further international alliances and foster greater levels of support for and investment in the UK New Space sector as we push forward in our journey to reach orbit from UK soil.
Maritime Launch and Skyrora partner to launch Skyrora XL from Spaceport Nova Scotia
Skyrora is pleased to have signed a Letter of Intent (LOI) with Maritime Launch Services Inc. (MLS) to potentially bring launch vehicles to Spaceport Nova Scotia. The partnership will allow Skyrora to explore a wider range of launch inclinations for our client base as we approach the first vertical orbital launch of Skyrora XL.

The partnership will also allow MLS to take the lead in the Canadian launch sector through the purchasing of Skyrora XL vehicles and vehicle support staff from Skyrora, building upon the great space relationship between Canada and the UK in the process. It was fantastic to meet the MLS team in person at the International Astronautical Congress in Paris this month, and we look forward to growing this partnership in the future.

Skyrora recognized for innovation in additive manufacturing through NRW.Global Business Award 2022
Skyrora is honoured to have received the NRW.Global Business Award 2022 in celebration of our investments in 3D-printing in North Rhine-Westphalia (NRW), Germany. The NRW.Global Business Award celebrates companies supporting the local NRW economy, generating employment opportunities, strengthening innovation impetus, and introducing new products to the state.

We are set to develop a highly innovative research and development centre in Paderborn and look forward to making the most of the aerospace engineering and research expertise which the area is known for.