Quarter 2, 2023 in Review
Term: April-June | Issue 6 | Date: 5th July 2023

A close look at the work carried out by Skyrora over the last few months.

A Letter From Our CEO
As we reflect on the past few months of activity, it is clear that Skyrora's Q2 has seen several key advancements in manufacturing and testing as we approach the first commercial vertical orbital launch from the UK. From the commencement of in-house engine qualification tests to developing a new 3D printed model of our orbital engine, we continue to localise as much of the launch value chain as possible to contribute to the larger innovation taking place in the UK space sector.

For instance, Skyrora's new 70 kN orbital engine model featuring an improved engine cooling chamber for increased efficiency was produced using our hybrid 3D printer, Skyprint 2, for the very first time here in Scotland. The refined design has not only halved the engine's production time and significantly reduced costs, but it has also enabled sustainable manufacturing processes. The new 70 kN engine is currently being tested at our site in Midlothian to be qualified for commercial use as part of our contract under the European Space Agency (ESA)'s Commercial Space Transportation Services and Support Programme. Completion of these full-duration static fire tests will bring Skyrora one step closer to bringing our flexible end-to-end launch service to market to benefit customers globally.

To further diversify our commercial offering within the new space market, Skyrora has commenced a collaboration with the National Manufacturing Institute of Scotland (NMIS) to qualify the machine, materials, and process of machining for our Skyprint 2 printer, enabling the machine to be used by third parties in the future. Once operating at scale, I am optimistic that Skyprint 2 will help meet the growing demand for a cost-effective, bi-metallic hybrid manufacturing service.

In parallel with these pivotal technical developments, Skyrora has prioritised engagement with industry stakeholders, including the Civil Aviation Authority (CAA) board, Scottish Development International, the European Union 'Made 3D' consortium, President Hiroshi Yamakawa and his colleagues from the Japanese Space Agency, and Rt Hon Jesse Norman, Minister of State in the Department for Transport whom we were honoured to host at our manufacturing facility outside Glasgow this quarter. These visits showcased the rapid development of our launch and manufacturing capabilities, including the second suborbital Skylark L vehicle within our incremental learning approach, the manufacturing for which is well underway. We believe that cross-sector collaboration is central to establishing a sovereign launch capability for the UK, unlocking the nation's ability to contend on a global scale in the process.

As such, I hope that Q3 of 2023 will bring concrete actions from the Department for Science, Innovation, and Technology (DSIT) to support pledges made within the UK Science and Technology Framework released this year, particularly within areas such as insurance and facilitating real change within the space sector. This is paramount to fostering a thriving and globally recognised space industry in the UK to ultimately obtain a nationwide superpower status in science and technology by 2030.

As we approach the third quarter of 2023 in which Skyrora will further progress our flexible launch services to reach clients internationally, I would be remiss not to extend my gratitude to those supporting Skyrora within the UK Government, as well as other stakeholders including the UK Space Agency, European Space Agency, Civil Aviation Authority, Scottish Enterprise, DiT, and DFT. Finally, I would like to recognise the team at Skyrora, who fuel our mission to reach orbit with their passion and hard work every day. I look forward to another quarter of innovation and technical milestones with you to match our successes in 2023 thus far.

Volodymyr Levykin, CEO Skyrora Limited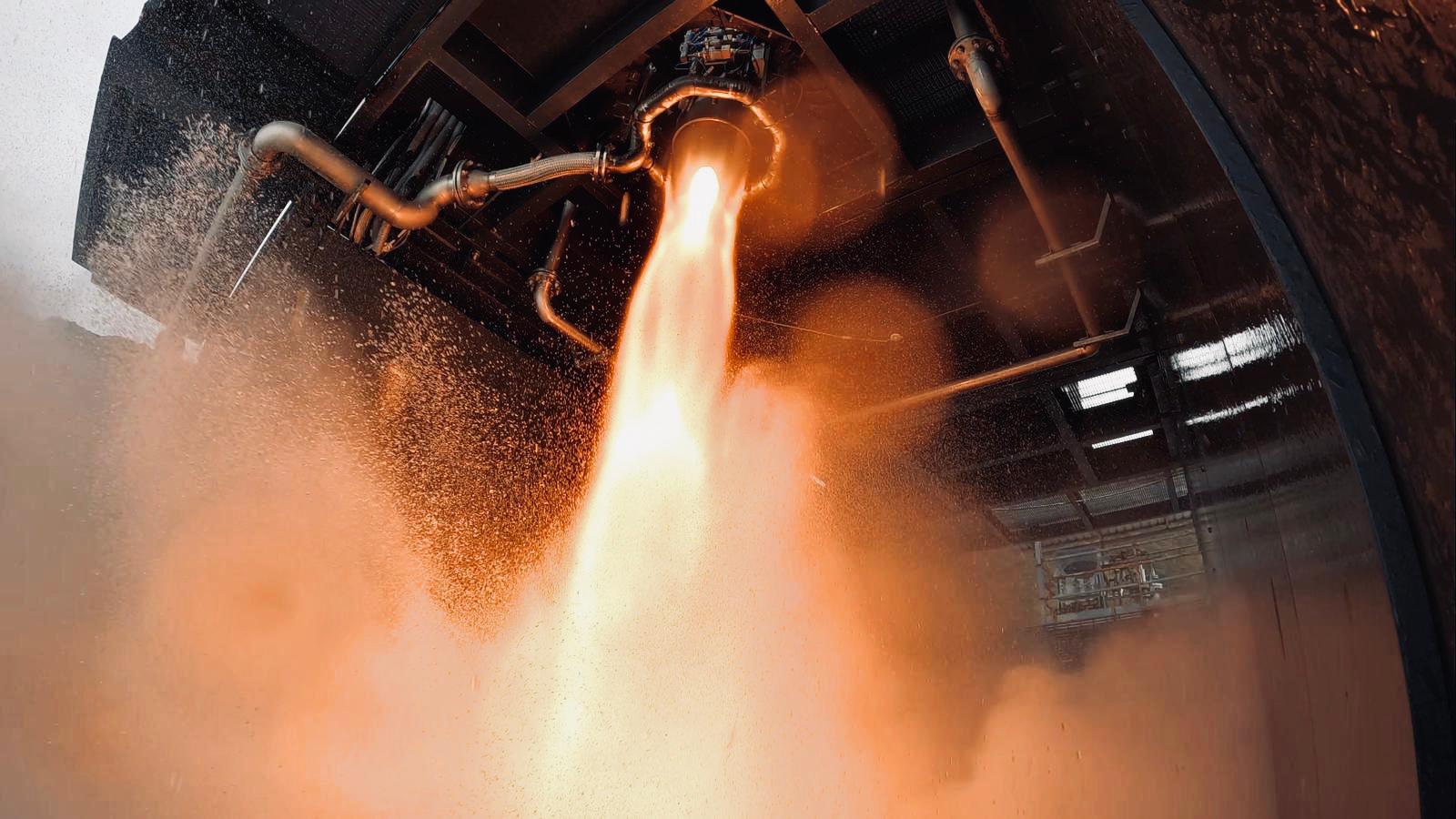 Skyrora 3D prints and tests new model of orbital engine to prepare for commercial launch
Skyrora closed out the quarter by commencing a series of full-duration tests in space-like conditions on a new model of 70 kN engine to prepare for orbital launch. The successful completion of this series of tests will mark a key milestone within the company's contract under the European Space Agency's Commercial Space Transportation Services and Support Programme.

The new engine design features an improved engine cooling chamber to increase the efficiency of the cooling process and, in turn, extend the engine's life cycle. Engine production has been enabled by using Skyrora's Skyprint 2 hybrid 3D printer for the first time, halving the production time and reducing costs.

Upon qualification through a series of tests at Skyrora's Midlothian test site which will evaluate various parameters including life cycle and full operational envelope testing while the engine runs for 250 seconds, the updated 70 kN engine will become the first ever commercial engine to use a closed-cycle staged combustion system run on a propellant combination of Hydrogen Peroxide and Kerosene, generating a higher specific impulse that will increase the overall efficiency of the engine.

Skyrora's utilization of in-house 3D printing in the engine production process allows for enhanced efficiency and flexibility in engine production, enabling rapid iterations and optimisation. By embracing innovative manufacturing techniques and thorough testing protocols, Skyrora is positioning itself at the forefront of the commercial space industry, demonstrating a commitment to pushing the boundaries of space exploration and revolutionising access to orbit.
Read the full press release here and watch a full engine test on Skyrora's YouTube channel. 
Production Nears Completion on Second Skylark L Vehicle
The manufacture of Skyrora's second Skylark L vehicle is currently in full swing, marking a significant milestone in the company's development and the subsequent launch of the Skyrora XL orbital rocket. The swift progress made on a second suborbital Skylark L demonstrates Skyrora's commitment to advancing technological capabilities, with a second launch attempt of the vehicle planned in the near future.

This achievement is pivotal in paving the way for the eventual launch of Skyrora XL, which holds immense potential for the United Kingdom's sovereign launch capabilities. With the launch of Skylark L and the resultant launch of Skyrora XL, the UK will gain a crucial asset in its pursuit of an independent and robust space program. The successful development and launch of such vehicles will not only bolster the country's presence in the global space industry but also open a host of opportunities for commercial and scientific endeavours. Skyrora's strides in manufacturing the Skylark L signify an exciting phase of progress and innovation, bringing the UK one step closer to achieving its goal of establishing itself as a key player in the global launch market.
Skyrora hosts European Union 'Made-3D' Consortium meeting to discuss additive manufacturing innovation for space
Alongside a team of international experts, Skyrora Ltd. hosted the most recent meeting for the European Union's Horizon Europe Research and Innovation Programme's 'Made-3D' project at the company's engine manufacturing facility outside of Glasgow. The meeting brought together the project's consortium of 13 pioneering industrial companies, universities, and research organisations in the field of additive manufacturing from across Europe to discuss how the project can increase the competitiveness of multi-material components and products for use in a wide range of applications, including the automotive, aerospace, and aeronautic sectors.

Skyrora has been awarded £500,000 through Innovate UK in association with the European Commission to contribute ground-breaking additive manufacturing innovation to the project. This funding will enable Skyrora to complete research with partners to produce a multi-material LEO rocket engine vacuum nozzle. Production will be enabled by Skyrora's in-house hybrid 3D printer, Skyprint 2, which is the largest of its kind in Europe.

This innovation will allow for a 50% weight reduction of the nozzle, enabling Skyrora's LEO rocket engine to deliver competitive advantage by carrying an increased payload to orbit to accommodate further small and cube satellite customers per launch of their orbital Skyrora XL vehicle.

Read the full press release here.
Skyrora Hosts Key Stakeholders at Local Manufacturing Facility to Further Cross-Sector Collaboration
Skyrora was delighted to host Civil Aviation Authority (CAA) Joint-Interim Chief Executives, Paul Smith and Rob Bishton, alongside their esteemed colleagues, at our Cumbernauld-based manufacturing facility in May. This visit enabled discussions surrounding Skyrora's rapid technical development towards the orbital launch of Skyrora XL from Saxavord Spaceport. This visit held paramount importance for both Skyrora and the Civil Aviation Authority, presenting a unique opportunity to foster a close working relationship between the industry and the regulatory body. This ongoing collaborative effort will ensure a seamless and safe integration of Skyrora's innovative space technologies, facilitating the growth and expansion of the commercial space industry.
Additionally, Skyrora welcomed representatives from the Nordic Space sector organised by Scottish Development International as well as President Hiroshi Yamakawa and his colleagues from the Japanese Space Agency and Rt Hon Jesse Norman, Minister of State in the Department for Transport to increase visibility of Scotland's thriving space sector and encourage discussions surrounding international commercial collaboration.
Skyrora speaks at global conferences to engage with launch stakeholders
Quarter 2 of 2023 saw Skyrora benefit greatly from a series of key events and engagements. Attending prestigious gatherings such as the Space Symposium and the DLR Industry Days provided valuable opportunities for stakeholder engagement and international business collaboration. 
Business Operations Manager Derek Harris delivered a keynote speech at the Munich New Space Summit, followed by Head of Government Affairs Alan Thompson's participation in a panel alongside representatives from the UK Space Agency, Civil Aviation Authority, and Federal Aviation Authority at the Space Comm Expo, which discussed the establishment of a robust commercial launch sector in the UK. 
Skyrora has placed particular focus on the development of industry presence and connectivity, participating in parliamentary sessions, investment forums and international exhibitions such as the Paris Airshow to foster relationships with current and future stakeholders. Ultimately, these activities boosted Skyrora's visibility, industry recognition and potential for partnerships and investments.