Quarter 1, 2022 in Review
Term: January-March | Issue 4 | Date: March 31st, 2022
A close look at the work carried out by Skyrora over the last few months.

A Letter From Our CEO
2022 So Far: A Time of Great Resilience
Before discussing Skyrora's milestones and achievements for this quarter, it must be recognized that the past month has been an incredibly challenging time for our team as the Russian invasion intensifies in Ukraine. There are truly no words to describe the obstacles our resilient colleagues in Dnipro have been faced with. In light of this, our number one priority has been ensuring the wellbeing and safety of our colleagues, and this will remain a priority as we move forward.

Skyrora is fortunate to have an international presence with a strong home base in the UK that we can use as a catalyst for supporting our colleagues in Ukraine. To generate support, we have been pushing forward our UK business operations across all departments, including engineering, production, and R & D activities, to work towards our commercial objectives at pace whilst standing in solidarity with Ukraine.

On the milestone front, this quarter has seen the official opening of our rocket engine test site in Midlothian, the largest of its kind in the UK. This is one of Skyrora's many milestones that could not have been achieved without our Ukranian colleagues and marks a true engineering triumph central to Skyrora's aim to launch the first British rocket from British soil. The site will ultimately help the UK to realise sovereign environmental launch and take the lead in the emerging new global space economy. Although our Ukranian colleagues are not able to join us at the moment, we are optimistic that we will get the chance to celebrate with them soon. In the future, I look forward to updating you on the many engine tests that will be taking place at this state-of-the-art facility!

Amid the trials of the current conflict, it is more important now than ever to discuss how the UK can best use its resources to support Ukraine. That is why Skyrora has hosted a myriad of visits to our facilities this quarter to promote collaboration with key individuals in government and industry. We are fortunate to have recently met with Minister for Business, Trade, Tourism, and Enterprise, Ivan McKee MP; Parliamentary Under-Secretary of State for Scotland, Iain Stewart MP; Chief Officer of the Midlothian Council, Derek Oliver; Midlothian Councillors Ashraf and Masterson; Ministry of Defence Air Commodore Jules Ball; and UKSA Director of Commercial Spaceflight, Matt Archer to provide insight into Skyrora's mission and discuss how this will benefit both Ukraine now and the wider nation in the long term.

We have also been collaborating with the UK government to articulate the need for a humanitarian sponsorship pathway that will enable our colleagues and others in Ukraine to seek safety and shelter in the UK. This is a collective ongoing effort, and we will continue to monitor the rapidly evolving situation closely each day.
I'd like to extend a massive thank you to the Skyrora team for standing in solidarity in the face of the overwhelming adversity experienced in Ukraine. Your hard work, resilience, and support for one another is at the core of everything Skyrora stands for, and it is what continues to set our vision to put the UK back in space in motion.

I would also like to express my deep gratitude to each and every stakeholder for your unwavering support of our company and mission, including representatives of UK Space Agency, European Space Agency, Civil Aviation Authority, Scottish Enterprise, DiT, and DFT. I assure you that even in these unprecedented times, Skyrora's mission to champion environmental launch within the UK space sector to yield economic, environmental, and social benefits remains the same, a mission which simply would not be possible without our talented team in Ukraine.


Volodymyr Levykin, CEO Skyrora Limited
Skyrora opens the UK's largest rocket engine testing facility to take the lead in the British orbital launch race
Skyrora completed Q1 by officially announcing the opening of our new rocket engine testing facility located here in Scotland, the largest of its kind in the UK! The site's unique location and proximity to other Skyrora facilities will provide us with a valuable competitive advantage, enabling the scaling up of our operations in preparation for an upcoming orbital launch of Skyrora XL.

Made possible through support from the UK Space Agency, this new site was commissioned and brought into service within eight months after three separate planning application submissions, acting as one of the fastest stands to be built in the world. This rapid production was also enabled by a recent grant awarded to Skyrora by the European Space Agency in 2021 with the aim to foster new commercial space transportation services. This localised test site will bring about pivotal environmental benefits, such as a reduced carbon footprint compared to having to transport engines and equipment to third party facilities, as well as saved resources through the use of rainfall from the Scottish Lowlands as part of the cooling system for the test stand.

Ultimately, this engine test site represents a monumental advancement in job creation, innovation, economic growth, and sustainability, areas which are central to the UK government's Levelling Up Agenda. We are beyond excited further unlock sovereign launch capability within the UK through this test site and await the chance to truly celebrate this achievement with our Ukranian colleagues, who were central to the completion of this milestone.
Skyrora builds the largest hybrid 3D printer in Europe to manufacture engine parts for future rockets
In Q4 of 2021, we were delighted to announce the building of our Skyprint 2 printer, the largest 3D printer of its kind in Europe, to maximize the speed and efficiency of manufacturing rocket components for future launches, including an orbital launch of Skyrora XL. Scheduled to begin production in Q2 of this year, this cutting-edge technology will decrease the complexity, cost, and printing times associated with additive manufacturing by 30% compared to other printers.
In addition to creating rocket components from scratch, Skyprint 2 has the potential to repair parts and machine items that were not originally printed. This, combined with its additive manufacturing capabilities, demonstrates the machine's sustainable benefits as it eliminates the need for wasted resources. Furthermore, hosting a 3D printer in-house helps to localize the launch value chain to reduce fuel emissions associated with transporting resources from further afield.

Overall, this machine will allow Skyrora to have full autonomy over the manufacturing process, enabling us to cater to the burgeoning small satellite market by creating an economic and responsive access to space. We look forward to updating you on Skyprint 2's progress once it begins production next quarter!

Providing insight: Skyrora gives facility tours to Minister Ivan McKee and other key stakeholders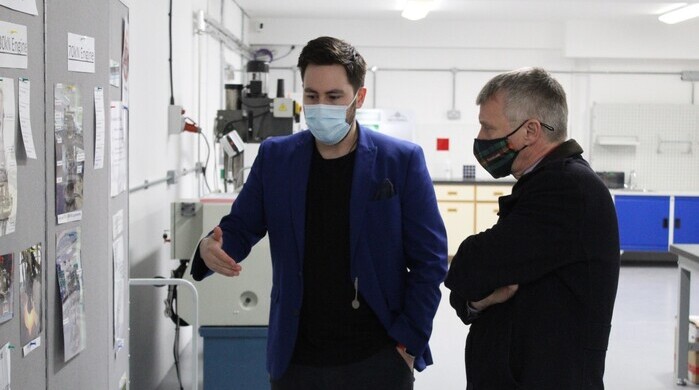 Skyrora was delighted by several opportunities this quarter to provide tours of our facilities in Scotland to key government and industry stakeholders such as Minister for Business, Trade, Tourism, and Enterprise, Ivan McKee MP; Parliamentary Under-Secretary of State for Scotland, Iain Stewart MP; Chief Officer of the Midlothian Council, Derek Oliver; Midlothian Councillors Ashraf and Masterson; Ministry of Defence Air Commodore Jules Ball; and UKSA Director of Commercial Spaceflight, Matt Archer. These tours of our Edinburgh HQ, engineering facilities, and impressive new engine test site in Midlothian allowed an introduction to the Skyrora team, as well as encouraged open discussions surrounding Skyrora's long term mission to reach orbit and its potential to contribute to the UK government's Levelling Up agenda through job creation in the STEM sector.

Skyrora considers stakeholder collaboration of utmost importance to harnessing the unique competitive advantages of the burgeoning New Space sector to realise vast economic, environmental, and social benefits here in the UK. These discussions are also central to determining how viable UK industries such as the Space sector can be used to support Ukraine during this time of conflict. As we move forward, we are optimistic about the collaborative potential found between innovative tech companies such as Skyrora and the wider government and industry.

Skyrora welcomes talented new hires on the engineering and business team
Skyrora was delighted to welcome Thomas Buteaux, Andrew Brown, and Ruslana Jakimova this quarter to our engineering and business teams! Selected through our vigorous assessment day, which consisted of aptitude tests, company assessments, high level engineering exams, company design projects, and speed interviews, Thomas is currently a Document Controller for Skyrora, Andrew is our latest Supply Chain Manager, and Ruslana has brought her business management expertise to the team as our latest Assistant Accountant. It is always exciting to expand our diverse, talented team through various disciplines!